Operating principle of Universe air humidification system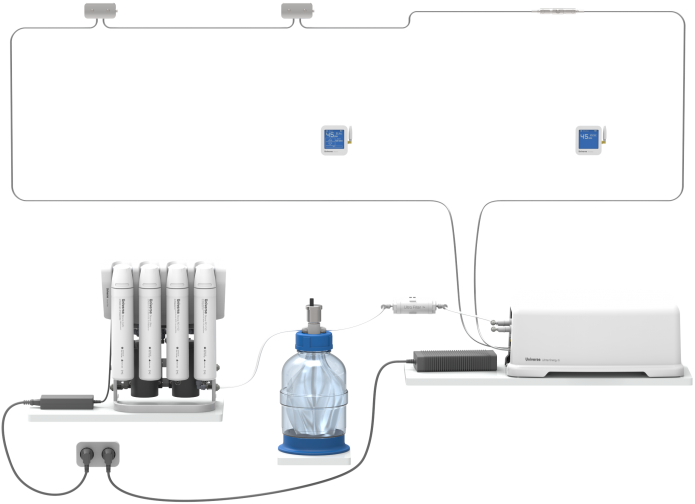 1
2
3
4
5
6
7
8
9
1

Central unit White Energy

It generates pressure in the hoses and directs water to fogging nozzles. White Energy can be installed in any room with available connection to water supply, drainage and elecrticity.
2

Brane Filter Set

Consists of the following stages:
• Carbon filter removes chloride, organic and inorganic compounds from water (included in Brane Filter and as an option for Brane Extra).
• Ultrafiltration membrane does not let particles more than 0.1 micron in diameter to pass. This protects reverse osmosis membrane from microorganisms.
• Double reverse osmosis filtration purifies water from bacteria, viruses, organic compounds, and further more it's salts rejection is over 99%, it is higher than the requirements to distilled water.
3

Water storage Brane Tank

Accumulates water purified by Brane Filter, because reverse osmosis filtration goes quite slowly.
4

High precision UltraFilter

This filter is installed into the pipeline before White Energy unit, it traps bacteria and viruses, which remained in the systems's elements after installation or got into water because of unsatisfactory filtration (if standard Brane Filter is not used).
UltraFilter is included in the supply package of central unit, it should be replaced annually or according to the pollution level.

Attention! If 2 or more Brane Filter units are connected in parallel the
Brane UV Filter sterilizer must be installed instead of UltraFilters.
5

Self-cleaning White Ray SS Hoses

White Ray consists of two layers. Inner one is made of Teflon®, this material is one of the most slippery materials in the world, and nothing can stick to it. This property makes the hoses self-cleaning, biofilms do not appear at all. Even after long system's downtime, microorganisms will be washed out during standard washing process. This property is unobtainable for other types of inner layers. Armour & covering layers are made of AISI304 stainless steel. Due to high tensile strength, it can withstand 4 times bigger nominal pressure and 15 times bigger burst pressure. At the same time, it is flexible and elastic. This hose gives high resistance to fractures and external mechanical damages.
6

Gravity (+) splitter with Nova nozzles

It atomizes water directly into room. Up to 3 nozzles may be installed into one Gravity splitter, which corresponds to the following capacity: 1.2, 2.4 or 3.6 l/h at maximum pressure in the hose. Nozzle's head contains ruby – one of the most hard crystals. That provides the highest durability of nozzles and forming optimum diameter of droplets 15 – 40 micron.
7

Main zone control unit Boson

It is a wireless precise electronic sensor with a display, showing desired and current humidity levels. Desired humidity level may be set at the display by a user.
8

Additional zone control unit Shadow

It is a wireless sensor, used only as an addition to the main control unit Boson. May be installed into rooms with fogging nozzles and help to avoid excessive humidification.
9

Binary Sat (+) tee with Nova nozzle

Alternative way for water atomization, which is usually used for hidden type of installation. There is an UNC thread connection at the face surface, in which atomizing nozzle or Tunnel extender should be screwed. Therefore, one nozzle may be installed into the splitter, which corresponds to 1.2 l/h capacity under maximum pressure in a hoseline.